Kontaktid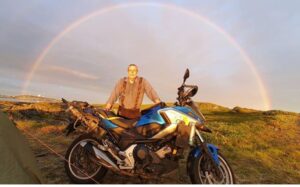 Valter Kraavi
iseuroperound@kvatelecom.ee
+372 555 34300
Liitu minu Youtube kanaliga
Liitudes videokanaliga, näed Sa minu reisi tegemisi ümber Euroopa, mis loodetavalt kestab käesoleva aasta jõuludeni.
Reis ümber Euroopa
Püüan mootorrattaga läbida hulga kilomeetreid kuldkollased lokikiharad kiivri alt tuules lehvimas päikeseloojangu poole, hambavahed täis sääski ja näol lollakalt õnnelik naeratus. Teha seda rahulikult ja igat hetke nautides. Eks pärast laon külmkapi uksele magneteid ja loen kokku – mitu riiki tuli. Riikide nimekirja ma endale eesmärgiks seadnud pole, sest nii tekiks kohustus, mis ei sobi minu plaaniga. Jätan endale vabaduse igal hetkel oma eelmine otsus ümber mõelda ja teisele poole põristada.
Trip around Europe
I try to cover on motorcycle a few kilometers of golden-yellow helmet in the wind towards the sunset happy smile on my face. Do it calmly and enjoying every moment.
After all, I put magnets on the refrigerator door and count – how many countries came. I have not set myself a list of countries, because that would create an obligation that does not fit into my plan. I reserve the right at any moment to reconsider my previous decision and turn it to the other side.

Kontakt
was last modified:
august 3rd, 2020
by